Viking Johnson

Viking Johnson has been supplying high quality pipe products to the international water, gas and industrial markets for more than 70 years.
During that time the company has become a world leader in the supply of pipe couplings and repair products with customer satisfaction always at the forefront of company policy.
Viking Johnson operates and maintains a quality management system accredited to ISO 9001, and an environmental policy accredited to ISO 14001.
Alprene Plastic Products is proud to be amongst Viking Johnsons global network of distributors. We offer competent customer support from our regional depot locations.
For specific part numbers and fitting information or to request a Viking Johnson Brochure please discuss your needs with our Sales Team.
Maxifit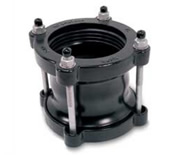 Universal coupling range
Couplings, flange adaptors, stepped coupling and special fittings
DN40 (1 1/2″) – DN300 (12″)
16 bar working pressure

True repair product
HandiRange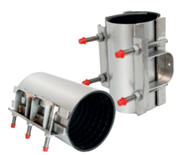 Stainless steel repair clamps

Full range, outlets, flanged etc.
Fully stainless construction

DN50 (2″) – DN600 (24″)
AquaFast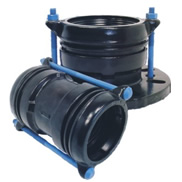 Progressive gripping and sealing

No support liner for PE
Suitable for PE and PVC (metric)
Couplings and flange adaptors DN63 – DN315

No torque requirements – visual bolt stop
EasiRange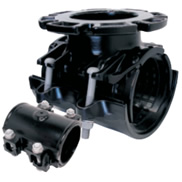 Wide tolerance iron body clamps
Repair as strong as pipe
16 bar working pressure
Install underpressure
Spigot and socket repair system

DN50 (2″) – DN600 (24″)
Dedicated Range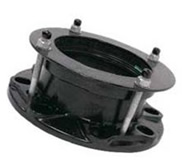 Available DN40 (1 1/2″) – DN5000 (200″)
Couplings, flange adaptors, stepped coupling and special fittings

Working pressure up to 70 bar (depending on size)
UltraGrip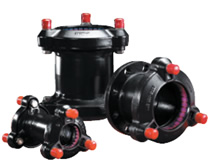 Wide tolerance iron body clamps
DN50 (2″) – DN600 (24″)
Self anchoring on most materials
Couplings, flange adaptors, reducing couplings and special fittings

Flexible options 
AquaGrip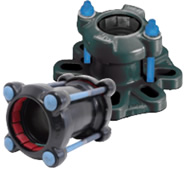 WIS 4-24-01 Type 1 pull out resistant joint for PE
DN63 – DN180
Flange adaptors DN63 – DN1600
Couplings and flange adaptors

Joins MDPE/HDPE/HPPE
FlexLock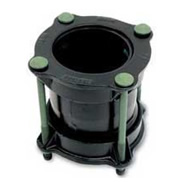 Ductile iron and steel pipes
DN50 (2″) – DN300 (12″)
Self anchoring couplings and flange adaptors
Dismantling Joints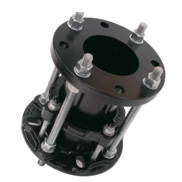 Simple and effective flexibility in flanged systems
DN50 (2″) – DN5000 (200″)
Full ends load rating