Primofit
Send us an email using the button above and we will send you a pricelist for the requested products.
Male thread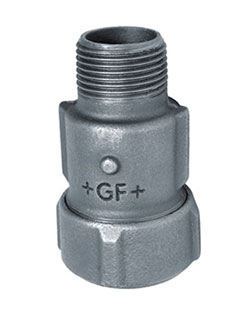 PRIMOFIT is a compression fitting made of malleable iron which offers full end load capability. It is available with black or hot dipped galvanised surface.
PRIMOFIT is suitable for the connection of steel-pipes, PE-pipes, lead-pipes and special steel pipes. Transition couplings from Steel-pipe to Pe-pipe offer a good solution especially for utility companies.
Online catalogue: click here.
For more information on Primofit
Fields of application
PRIMOFIT is best suited for new installations, pipe repair and pipe work extension, as well as for the exchange of
valves and filters:
water (warm- and cold-water, heating)
gas (natural-gas, LPG, inside the building and outside)
oil
compressed air
fuels
Advantages:
very versatile connection – suitable for different pipe material and media
quick and easy assembly – low costs
no special tools or skills necessary
dismantling not required (before installation)
no threads on steel pipe required
angular deviation possible (up to 3°)
can be used in "awkward" places
Technical Data:
Range: 3/8″ to 3″ (for Steel-pipe) respectively 20mm to 63mm (for PE-pipe)\
Connections: compression fitting for steel pipes (black or galvanised) and PE-pipes. Connecting thread.
Temperature range: -20 ̊ C to 105 ̊ C (depending on sealing material)
Max pressure: 16 Bar
Materials:
Body & nuts: malleable iron according EN 1562 (material grade: A)
Surface: black or hot dipped galvanised
Seal: NBR, EPDM, FPM, NBR + graphite (fire resistant)
Locking rings: spring steel (for Steel-pipe) & POM or steel (for PE-pipe)