GF Electrofusion Fittings
Send us an email using the button above and we will send you a pricelist for the requested products.
Electro fusion couplers d450 to d630 mm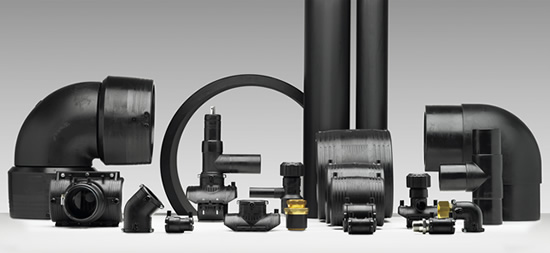 Pipes, fittings, valves and other components need to be connected safely and reliably.
Whether in water or gas distribution, for mains lines and service lines a safe connection is always a primary concern… GF Piping Systems has the right solution even for your most difficult connections.
GF is considered to be a pioneer, as well as one of the best known producers, utilising the most advanced technology in the world. The GF Electrofusion range includes couplers, saddles, fittings, branch saddles and transition fittings.
For specific part numbers and fitting information or to request a Georg Fischer Electrofusion brochure please discuss your needs with our sales team.
For more information on 
Electrofusion

 Fittings click here.
ELGEF Plus Electrofusion Couplers
Wide range of Couplers available from 20mm to 630mm diameter PE100 SDR11 suitable for 16 bar Water, 10 bar Gas. Equipped with 4mm diameter pins and limited path fusion indicators.

Coupler with intrgral pipe fixation (20 – 63mm diameter)
Fields of Application:
Water and gas distribution
Industrial pressure applications
Transport lines, distribution lines, house connections

Coupler (75 – 400mm diameter)
Advantages:
Easy assembly due to the tapered socket mouth
Each electrofusion socket has a smooth inside surface with a protected resistance wire permitting a thorough and simple removal of possible on-site contamination
The dynamic pitch of the heating coil results in optimum joint quality
Clear identification with large and easily understandable product marking
Large and effective fusion area for your safety
Ideal gap closing characteristics for reliable PE large pipe joints
Integrated pipe fixation up to d63 mm for fast and safe installation

Removable centre stop up to d160 mm – a coupler for all applications

Coupler (160 – 630mm diameter)
ELGEF Plus Saddles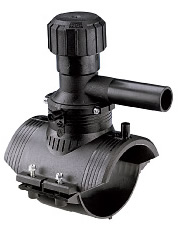 ELGEF Plus Modular Saddles comprise a complete product package, tapping saddles, pressure tapping valves, stop-off saddles, repair saddles and spigot saddles.
The Branch Saddle is at the heart of the modular system meaning all requirements are covered with just a few components.
Fields of Application:
Water and gas distribution

Distribution lines, house connections 
Advantages:
Complete system with just a few parts
Reduced stock volume with savings of up to 50%
360° rotation of outlet permits infinitely variable positioning and wide freedom of
movement during assembly
Vertical or horizontal fixation possible – exactly as site conditions dictate
Easy, flexible and fast attachment, therefore, substantially lower costs
Products:
Branch saddle, tapping saddle, tapping saddle with Gas-Stop, pressure tapping valve

Stop-off saddle, repair saddle, spigot saddle 
ELGEF Plus Electrofusion Fittings 
The electrofusion fitting programme is unique for two reasons. Firstly, due to the complete range of elbows, tees, reducers and end caps extending from d20 to d250 mm. Secondly, because of the unlimited possibilities offered when combining such fittings in the sizes d20 to d63 mm with modular transition adapters.
Fields of Application:
Water and gas distribution
Industrial pressure applications
Transport lines, distribution lines, house connections
Advantages:
Single source supplier – complete range even up to the very largest dimensions
Extensive variety of combination possibilities and ease-of-assembly with the modular transition adapters
Easy user-friendly pre-assembly due to integrated pipe fixation up to d63 mm
Highly automated manufacturing and process technology for flawless products
Tees may be connected using couplers or reducers
Products:
Elbow 90°, elbow 45°, tee, tee reduced, reducer, end cap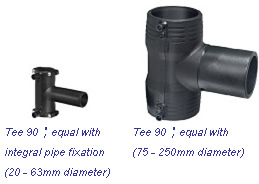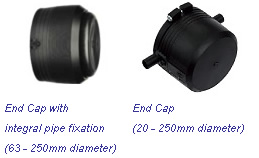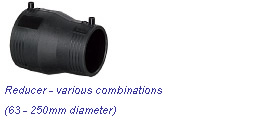 ELGEF Plus Branch Fitting
The ELGEF Plus branch fitting offers a user friendly solution for new installations or network extensions.
Whether a new installation, subsequent tie-in of mains or service line, hydrant connection, renovation or repair work – these branch fittings are faster and easier to use than standard tees.
Fields of Application:
Water and gas distribution
Industrial pressure applications

Transport lines, distribution lines 
Advantages: 
Branch fittings can be installed and tapped under live mains conditions, so the main line must not be shut down or bypassed like when using tees
Fewer fittings required resulting in savings for material costs
Lower installation costs thanks to easy handling
Conventional tapping procedures, i.e. the use of existing, conventional tooling is possible
Integrated pipe fixation for the branch outlet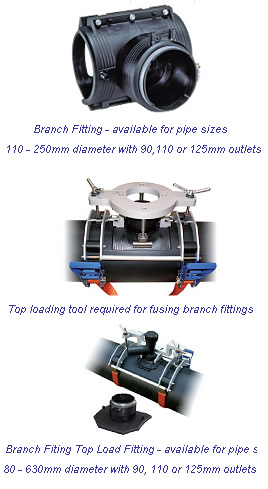 ELGEF Plus Transition Fittings
The unique ELGEF Plus modular range of transition fittings permits wide product utilisation but is, nevertheless, limited to just a few component parts: transition couplers, 45° and 90° transition elbows, transition tees and transition reducers.
All bodies are available either in brass or stainless steel with male or female threads and also with a loose collar. Therefore, you can decide in advance which fitting and transition should be taken from stock and combined for particular on-site applications.

Fields of Application:
Water distribution

House connections 
Advantages:
Modular concept – diverse combinations – only a few parts
Matching, fully interchangeable fittings and transitions
Low costs due to minimised stock volume
Brass and stainless steel transition adapters are available
Rotating transition adapters provide easy installation also under difficult installation conditions
Products:
Transition adaptor PE/Brass, Transition adaptor PE/Stainless Steel