Butt Fusion Machines
Send us an email using the button above and we will send you a pricelist for the requested products.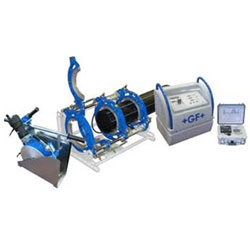 Alprene Plastic Products supply both 'Field' and 'Workshop' Butt Fusion machines from 63mm – 1600mm diameter.
Our current range of Butt Fusion machines is available in Fully Automatic, Semi Automatic and Manual formats.
Constantly improved in terms of practical design features and software upgrades, latest version brings together a machine packed with innovative ideas in order to ensure that our range remains a favourite in the market.
The Fully Automatic range incorporates all the features and refinements expected from a leading brand… including:
Compact, lightweight, robust design

Narrow width construction and convenient handles for trench use

Easily converted on site for 'pupping' capability (most machines)

Automatic, fully floating 'lock-on' Trimmer

Fully floating 'drop-on' Hotplate

Capacity to weld various polymers including: Polyethylene, Polypropylene and Polybuthen (Flexalen PB – pipe systems)
We offer a workshop to repair all Butt Fusion machines and tools.
For more information on our range of Butt Fusion machines click here.